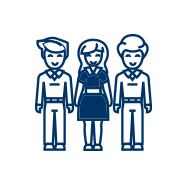 VOLUNTEER OF THE YEAR FINALIST
Cheryl Cooke

MEET CHERYL
Cheryl Cooke is a volunteers primarily within Dressage (and Jumping on occasion) and is known for always being willing to assist, for always being available and for being a wonderful person to communicate with. Cheryl has supported Boneo Park events at almost all monthly and major events.
Her attitude to the judges is always kind, understanding and second to none. She is a well-liked penciller/scribe and handles the pressure extremely well. She is happy to take on any changes and welcomed the new iPad scoring system. She pencils/scribes at the highest level of dressage and always with a smile and can do attitude. Cheryl is always punctual and is known for her lovely smiley face.
THINGS YOU NEED TO KNOW BEFORE YOU VOTE
JUDGING CRITERIA
Position/s held
Hours spent assisting
Impact of work/duties performed
HOW TO VOTE
Before casting your vote we'd like you to get to know our finalists by reading their profiles below.
You'll also need your membership number, so have it handy when you're ready to make your selections. We also ask that you look at the criteria listed for each category and use these points to make your decision – remember, it's not about just being a nice person!
When you are ready to cast your vote, simply click on the VOTE NOW button.
VOTING ELIGIBILITY
You must have been a financial member at some point during the period 1 July 2019 until Monday 21 September 2020 to be eligible to cast a vote. You are only able to submit ONE voting form per category. The following will be deemed void and will be removed:
duplicate votes in a category by the same member
unfinancial members (as per time period above)
invalid or incorrect membership numbers
2019
VOLUNTEER of the year