CELEBRATING OUR LOVE OF THE HORSE
Awards
27 AUGUST 2022 HOLIDAY INN WERRIBEE
Brought to you by

PERFORMANCE BASED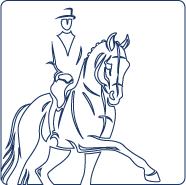 2022 Dressage
Young Rider of the Year
About this award
The Dressage Victoria Young Rider of the Year award recognises the highest level most consistently performing Victorian young dressage rider over the period 1 July 2021 – 30 June 2022.
Eligibility
Rider must be a current Equestrian Victoria member AND

Be no younger than 16 years of age as at 31 December 2022 AND

Be no older than 21 as at 31 December 2022.

Equestrian Australia affiliated events only are eligible for points.

Performances will be from the highest level of competition.
Qualifying Events
FEI YR / Prix St Georges classes for riders 16 – 21 (Prix St Georges, FEI Team, Individual and Freestyle tests)
Victorian Dressage Festival December 2021
Australian Youth Dressage Championships January 2022
Boneo Summer Championships January 2022
Willinga Park Dressage by the Sea February 2022
Dressage & Jumping with the Stars March 2022
Sydney CDLite April 2022
FEI Young Rider / Prix St Georges scores from any other official competitive event are also eligible.
Scores from the six majors will have a slightly higher status with an additional 1% weighting at those events (similar to the calculation of the FEI World Rankings).
Freestyles will then be subject to a 3% deduction (as per the World Rankings model).
Top eight scores per combination to count.
Calculated by the average of those scores.