PERFORMANCE BASED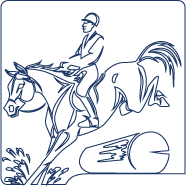 2020 Equestrian Victoria
Eventing Young Rider of the Year
About this award
The Eventing Victoria Young Rider of the Year award recognises the highest level most consistently performing Victorian eventing young rider over the period 1 July 2019 to 31 May 2020.
Eligibility
During the applicable period the rider
Must be Equestrian Victoria registered AND
Have permanently resided in Victoria during 2019/2020.
Be no younger than 16 years of age at the beginning of 2020 AND
Be no older than 21 at the end of 2020.
Qualifying events
Any official EA Horse Trials event from 1 July 2019 to 30 June 2020
"The more you celebrate in life, the more there is to celebrate"
2019
eventing young rider
of the year