CELEBRATING OUR LOVE OF THE HORSE
Awards
27 AUGUST 2022 HOLIDAY INN WERRIBEE
Brought to you by

PERFORMANCE BASED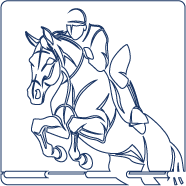 2022 Jumping Victoria
Young Rider of the Year
About this award
The Jumping Victoria Young Rider of the Year award recognises the highest performing and the most consistent Victorian young rider jumping 1.25+ over the period 1 June 2021 to 31 May 2022.
Eligibility
Rider must be a current Equestrian Victoria member AND
Have permanently resided in Victoria during the applicable period AND
Be no younger than 16 years of age at the beginning of the applicable calendar year AND
Be no older than 21 at the end of the applicable calendar year
Qualifying Victorian events must be at a minimum 1.25m
Qualifying events
Boneo November Monthly (5th November to 7th November)
NVSJC Jumping Champs (13th November to 14th November)
MSJC Spring Show (20th November to 21st November)
Boneo November Mid Week Comp (24th November to 25th November)
Sale SJC Grand Prix (26th November to 28th November 2021)
GDP Christmas Classic (16th December to 19th December)
Caramut RC SJ Carnival (7th January to 9th January)
PPSJC Summer Show (22nd January to 23rd January)
World Wetlands Day (28th January to 30th January)
Australian Showjumping Championships (2nd February to 6th February)
NVSJC Summer Show (19th February to 20th February)
Port Phillip SJC Grand Prix (5th March to 6th March)
BDSJC Pop-up (5th March to 6th March)
Western Districts Championship (12th March to 14th March)
Geelong SJC Autumn Classic (2nd April to 3rd April)
Melbourne SJC Autumn Classic (23rd March to 24th March)
Jumping Victoria State Titles (28th April to 1st May)
If one or more of the above events main class does not meet the above height no points will be received from placing in the event.
Equality of points
Points are awarded to the Rider only (not the Athlete/Horse Combination).

 

The top 8 scores count towards the leaderboard results. 

 

A rider with two horses entered into the main class will only receive the points from the horse with the higher placing. 

 

The Australian Jumping Championships will have points allocated per each round including the final and be worth double points. 

 

Scale of points will mirror and be adapted from the FEI Jumping World Cup Rules Article 656.2 and go to 16th place.

 

Points are allocated against the

actual placing for the class

and not the order of placing for Victorian riders at State and Interstate competitions. 

 

Rider who are DNS, ELM, RET, DSQ receive a point score of 0 for that qualifying event regardless of placing.