PERFORMANCE BASED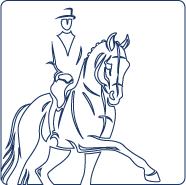 2022 Off The Track
Dressage Horse of the Year

About this award
The Off The Track Dressage Horse of the Year award recognises the most consistently performing Off The Track dressage horse over the period 1 July 2021 – 30 June 2022. Consideration will be given to the level of the performances. 
Eligibility
Rider must be a current Equestrian Victoria member AND
Horses must hold a current competition license. 
Have permanently resided in Victoria during the applicable period AND
Have raced and/or been officially trialled.
Equestrian Victoria affiliated events will be qualifying events for applicable points IN ADDITION TO any interstate events that are affiliated with the applicable state branches.