PERFORMANCE BASED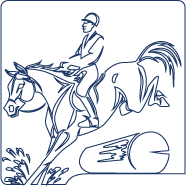 2020 Off The Track
Eventing Horse of the Year

About this award
The Off The Track Eventing Horse of the Year award recognises the most consistently performing highest level performing Victorian Off The Track Eventing horse over the period 1 June 2019 to 31 May 2020.
Eligibility
Horse must be Victorian EA Registered AND
Have permanently resided in Victoria during the applicable period 2019/2020.
Have raced and/or been officially trialled.
Equestrian Victoria affiliated events are the only state qualifying events for applicable points.
Any interstate events must also be affiliated with the applicable state branch to be counted towards points.
Qualifying Events
Any official EA Horse Trials event from 1 July 2019 to 30 June 2020
"The more you celebrate in life, the more there is to celebrate"
2019
OTT EVENTING HORSE

of the year