PERFORMANCE BASED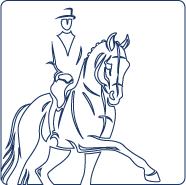 2020 Equestrian Victoria
Para Equestrian of the Year
About this award
The Equestrian Victoria Para Equestrian of the Year award recognises the highest level most consistently performing Victorian para equestrian over the period 1 June 2019 to 31 May 2020.
Eligibility
Rider must be a current EV member AND
Horse must hold current competition license.
Equestrian Australia affiliated events only are eligible for points.
Performances will be from the highest level of competition.
Qualifying Events
CPEDI classes (Team, Individual and Freestyle tests) at the following events:
Carlton Performance Horses @ Boneo November 2019
Dressage Festival December 2019
Boneo Park January 2020
"The more you celebrate in life, the more there is to celebrate"
2019
PARA EQUESTRIAN

of the year