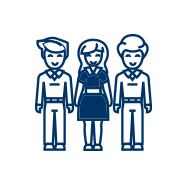 VOLUNTEER OF THE YEAR FINALIST
Bronwyn Shortt

MEET BRONWYN
Bronwyn has been on the Jumping Victoria Committee for many years along with many other committees including Dressage Festival, Dressage & Jumping with the Stars, and her Showjumping Club. She puts in hours of work within jumping as a volunteer but is also a vital part of making Dressage & Jumping with the Stars come to life. She focusses on increasing participation and is always looking at how to improve things. Bronwyn is always positive and happy to assist wherever needed, whether it involves staying at WPNEC for the whole week to assist with the set up and pack up, or being involved in the running of the actual event.
THINGS YOU NEED TO KNOW BEFORE YOU VOTE
JUDGING CRITERIA
Position/s held
Hours spent assisting
Impact of work/duties performed
HOW TO VOTE
Before casting your vote we'd like you to get to know our finalists by reading their profiles below.
You'll also need your membership number, so have it handy when you're ready to make your selections. We also ask that you look at the criteria listed for each category and use these points to make your decision – remember, it's not about just being a nice person!
When you are ready to cast your vote, simply click on the VOTE NOW button.
VOTING ELIGIBILITY
You must have been a financial member at some point during the period 1 July 2019 until Monday 21 September 2020 to be eligible to cast a vote. You are only able to submit ONE voting form per category. The following will be deemed void and will be removed:
duplicate votes in a category by the same member
unfinancial members (as per time period above)
invalid or incorrect membership numbers
2019
VOLUNTEER of the year