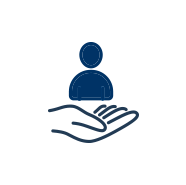 2020 Equestrian Victoria
LIFETIME SERVICE TO SPORT
This award recognises outstanding and extraordinary dedication in the sporting arena and contributions that have had a positive impact on the Victorian equestrian sector over a number of years. It recognises those who have consistently gone above and beyond behind the scenes. It rewards those who have generously dedicated themselves to the sport but whose achievements aren't necessarily recognised by being on a podium or being in the media spotlight. They are that 'go-to' person who is both respected and admired for who they are and what they have achieved.
The winner of this award will be someone who has made an impact over a long period of time for the love of the sport, not the glory.
This award recognises achievements over multiple years and is NOT restricted to 2019/2020.
Disclaimer:
The information contained in the finalist profiles is based on wording supplied by the nominator/s. Equestrian Victoria has taken reasonable measures to ensure it is true and correct, however, take no responsibility for misleading or inaccurate facts, and is not liable for any loss or damage which may arise as a result.
Catherine Shelley
MULTIPLE

Jeremy Roberts
SHOW HORSE

Peter Gardiner
SHOW HORSE

Peter Dunne & Glenn Fryer – 'Longvue'
DRESSAGE